Sean continues to please us with his lovely expression, wonderful personality, and the ability to produce quality kids! He is stamping his look on his pups, as well as his "look at me" attitude. We thank all the breeders who have used Sean in their breeding programs.
Sean was a lovely puppy who grew up without going through any awkward stages and many of his sons and daughters are doing the same thing. Those who were shown as puppies have done well - two are Canadian Champions with two more well on their way to finish their Canadian Championships, and three are pointed in the U.S.
Shown sparingly as a puppy, Sean picked up a 4 point major reserve under breeder/judge Cheryl Anderson (photo below) and a minor reserve.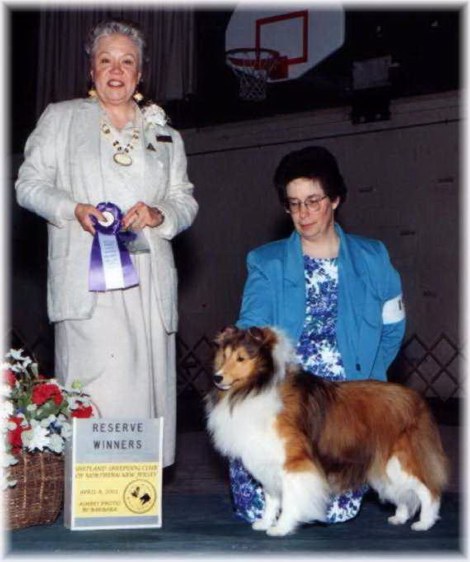 Sean is a lovely blend of all the best Sea Isle has to offer, and like the old Sea Isle lines, he has been slow to mature. Knowing this, he wasn't seriously campaigned until he turned four years old (April, 2004). He currently has 11 points, 1 major and two Best of Breeds.
Click here for Sean's other win photos
.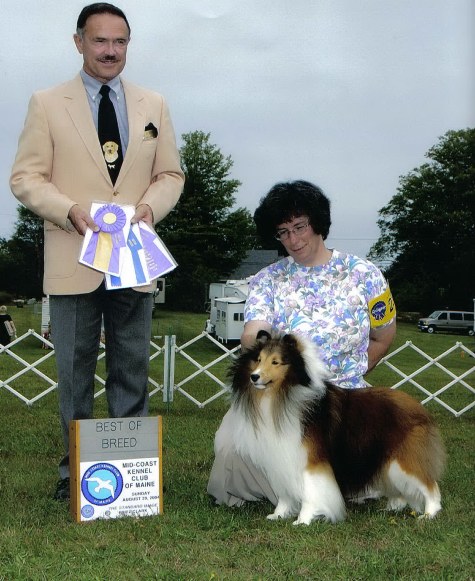 Sean is pictured taking Best of Breed at the Mid-Coast KC of Maine show in August, 2004, under judge Carl Liepmann.

We were thrilled with Sean's 4th place at the ASSA National Specialty 2003 (photo below). Shown with son
Can Ch Belcroft Majestyk Scotland Yard
(7 U.S. points) and daughter
Haven House Lil Diva
(3 U.S. points) he was the only sable stud to place. Sean has been undefeated with his other Stud Dog
Sean's kids are enjoying other venues also - several have been exposed
to sheep and show good instinct, and they enjoy agility, obedience and
flyball. Most importantly, they all enjoy being companions and having
fun!
Sean is consistently producing a sweet eye, lean head, finish of
underjaw and nice muzzle on his offspring, along with elegance, good
movement and great attitude. He is OFA Excellent, eye clear, vWD DNA clear. Pure for sable and white factored.
Sean is at stud to approved bitches..
Sean and Trace (grandson) with "grandma" Connie, owner of Sean's grandsire Am/Can Ch Alymere Premonition.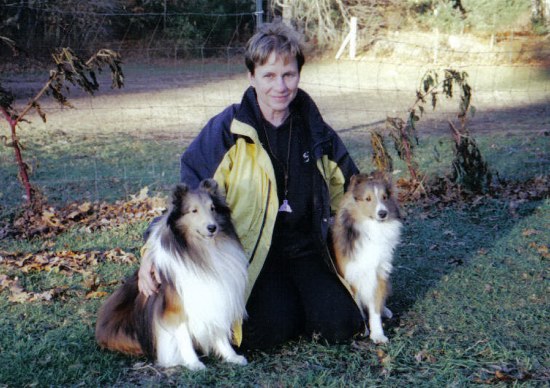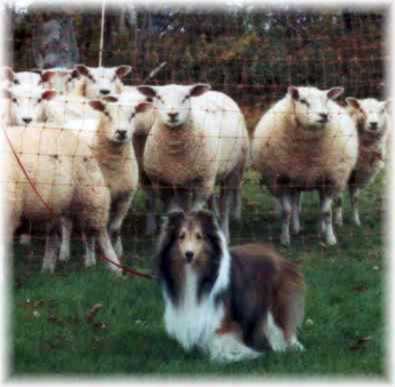 Sean visiting with friends on Prince Edward Island