Ch Pinnacle Star Satin
"Satin"
Sire: Am/Can Ch Gairloch's Pinnacle's Image CDX NA
Dam: Pinnacle Ooh La La
Thank You Donna and Greg Colletti For Sharing This Lovely Girl With Us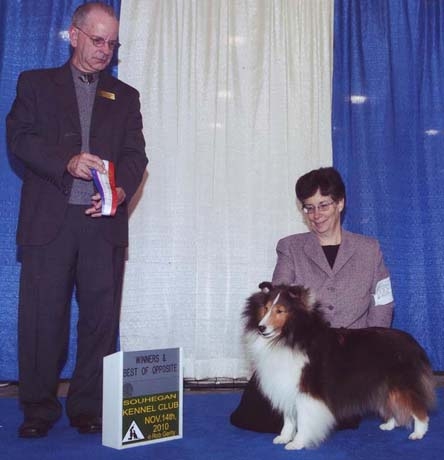 Satin came to us for breeding and her breeders, Donna and Greg Colletti (Pinnacle Shelties, NJ) allowed us to co-own her with them. Satin did not become pregnant, so a couple years later, at eight years young, she hit the show ring with Vicki and Terri. She was entered in three straight weekends (Nov-Dec, 2010), all consecutive shows. Imagine our THRILL when she won seven consecutive shows earning 9 points and minoring out!! Two of her wins were two points each. Unfortunately, the weekend that usually drew majors did not that year. Satin blew coat and came back into the ring the Spring of 2011 and picked up first major. Her second major was at 10 years young and she went BOS over 4 bitch specials!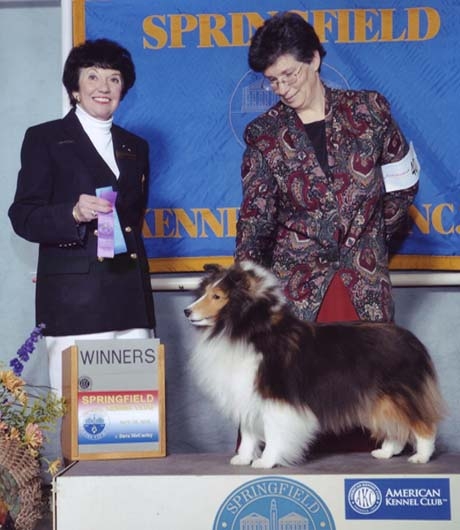 Satin has been a great foundation bitch for Donna Colletti and ourselves. She is the daughter of the excellent Am/Can Ch Gairloch's Pinnacle's Image CDX NA and has children, grandchildren and great-grandchildren in the ring. Her grandson, Belcroft Majestyk Strike It Rich (Cash) has 10 points towards his championship and will be out this winter for his majors.
Satin's offspring include:
Ch. Pinnacle Satin Ribbon (daughter by Pinnacle Magellan RN CGC TDI and Pinnacle Star Satin)
Belcroft Majestyk Strike It Rich, 10 points (grandson by Pinnacle Winter Frost and Am/Can Ch Majestyk Belcroft Forbidden)
Belcroft Majestyk Criminal Justice, 5 points (grandson by Majestyk Bcroft Secret Service and Pinnacle Satin Ribbon)
Pinnacle Winter Frost, never shown as he has a blue eye (son by Pinnacle Merle Legacy [an AM/CAN CH Gairloch's Pinnacle's Image CGC NA son] and Pinnacle Star Satin)
Pinnacle First Frost, 3 point major first weekend shown (grandson, sired by Pinnacle Winter Frost)