Ch. Rockgardens Popular Decision
"Brenden"
"Brendan" came to us through the generosity of Cleone Bouchard,
Rockgarden Shetland Sheepdogs. He went to live with Katrina Stewart,
Katana Shelties, as a young adult and Katrina took him to matches while
awaiting maturity. Once mature he was shown to most of his minor
points by Katrina. Vicki put on his majors and other minor points.
Brendan is the third Suede son to finish. He has a sweet expression,
fantastic side gait and a great show personality.
Breeder/Owner - Cleone Bouchard, "Rockgarden"
Co-Owners - Vicki Rolls "Belcroft" and Katrina Stewart "Katana"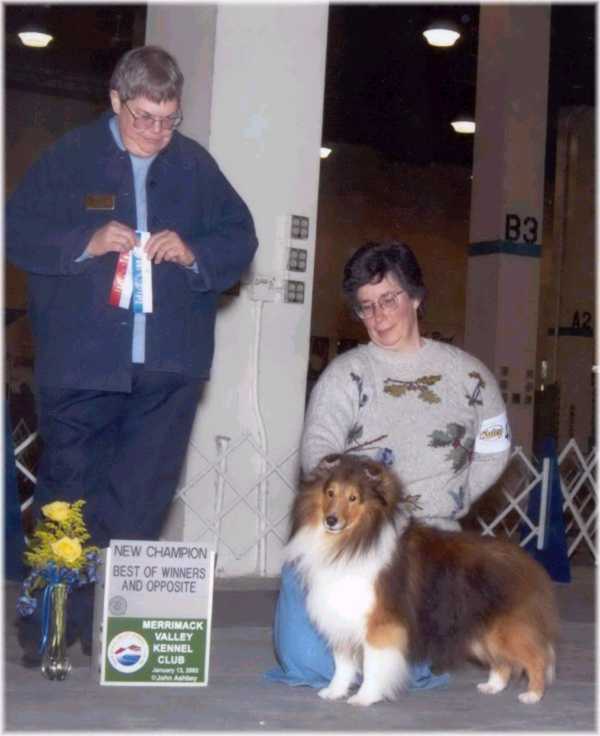 Sire

Sire

AM/CAN CH KYLENE CINDAHOPE TOWN CRYER ROM

Sire

CH MAINSTAY ATTITUD ADJUSTMENT

CH SUNNYBROOK'S HERITAGE SPIRIT ROM/ROMC

CH MAINSTAY RUMOR HAS IT

Dam

AM/CAN CH CINDAHOPE CRYSTAL AND GOLD

CH ROCKWOOD'S GOLD STRIKE

CH PARK AVE'S CRYSTAL CLOWN

Dam

Belcroft Footloose Wayfarer

Sire

Robbinsbrae Almere Accord

CH ROMAYNE'S SPORTIN' LIFE ROM/ROMC

Robbinsbrae Fashionette

Dam

Honeywood Hast'n Down The Wind

CH TERRELS ROJEAN GENTLEMAN JIM

Honeywood Sandcastle

Dam

Rochgarden's Magic Moment

Sire

CH TARA HILL ALMERE WILD CARD ROM

Sire

Tara Hill It Hasta To Be Shasta

CH BARWOOD'S LEGAL TENDER ROM

Tara Hill Dearly Precious

Dam

Dan Dee Orange Fragrance

Dan Dee For The Moment

Dan Dee What Dreams Delight

Dam

Rockgarden's Princess Leah

Sire

AM/CAN CH LORIEN FIRESYD PUMPKIN MAGIC

CH SUNNYBROOK'S HERITAGE SPIRIT ROM/ROMC

Heatherland's Dream Pumpkin

Dam

CH ANGEL OF THE EVENING

CH JOPAVIST HJALTI JUMALA

Evenstar Of Westernesse CD

This pedigree page was built for free at SitStay.com