MACH2 Belcroft Lightn Strikes UD RAE HSAs XF EAC EJC OCC CGC (Striker)

Striker at 10 years young! These were taken at the 2009 National. He is still competing in agility and just
obtained his UD degree September 2011! His kids are doing great in Agility and in the Conformation ring!
See below for a list of his kids and grandkids.
We would love to get updates on these and other Striker kids and grandkids!
Photos and additional information can be fround under "Striker Kids" and also on our "Boys" & "Girls" pages.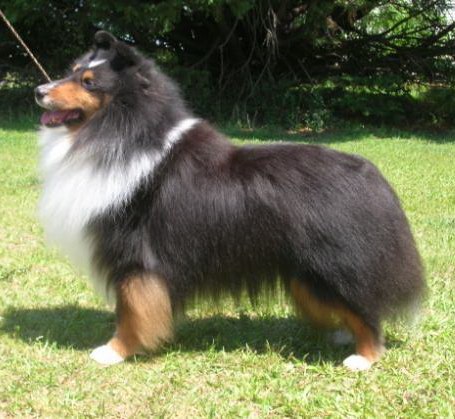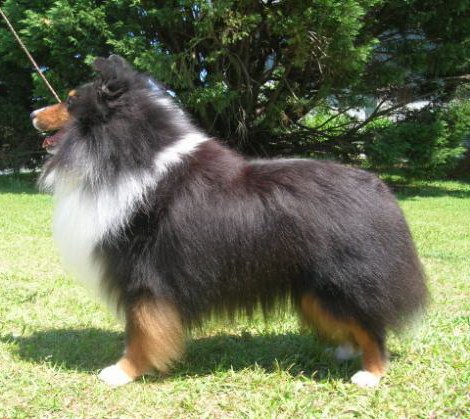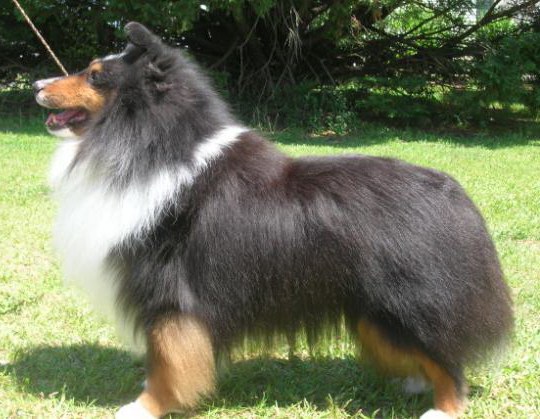 Striker achieved his UD degree in September 2011 at 11 1/2 years young and obtained his MACH 2 in 2009. He was Best All Around Sheltie at the ASSA National in 2006.

Best All Around Sheltie ASSA 2006










Striker's offspring include:

Am/Can Ch Majestyk Belcroft Forbidden (Tabu) out of Belcroft Katana Krystal Ice (Krystal - dam of 3 Champions), co-bred and co-owned with Alanna Kelly
Ch Allaround Majestyk Glacier RN (Lace) out of Belcroft Katana Krystal Ice (Krystal - dam of 3 Champions), co-bred and co-owned with Alanna Kelly
Belcroft Majestyk Ice Storm (Ice) (8 points) out of Belcroft Katana Krystal Ice (Krystal - dam of 3 Champions), co-bred and co-owned with Alanna Kelly
MACH3 Majestyk Blink of an Eye (Blink) (Performance Top 10 USDAA Standard and Gamblers 2010) out of Majestyk Belcroft Jersey Girl, owned by John Nys
MACH ADCH NATCH vers-NATCH Majestyk Lil' Deuce Coop XF (Deuce) out of Pinewood Acres Snow Angel, owned by Ben Philibert and Erin Schaeffer
MACH ADCH Belcroft Lightn Strikes Twice RN OF (DIVOT) out of Belcroft Katana Krystal Ice (Krystal - dam of 3 Champions), co-bred with Alanna Kelly and owned by Debbie Cartney
MACH CATCH Scottfree Great Expectations RN XF (Dickens) bred and owned by Madelyn Cirrina
Belcroft Lightening Sprites CDX, RE, NJP, NA (Sprite) out of Belcroft Katana Krystal Ice (Krystal - dam of 3 Champions), co-bred with Alanna Kelly and owned by Cathy Nicol
Belcroft In A Sweet Dream AX AXJ NF (Strata) out of Belcroft Katana Krystal Ice (Krystal - dam of 3 Champions), co-bred with Alanna Kelly and owned by Cat Ostiguy and Dan Lombard
Allaround Belcroft Cisco Kid NA NAJ (Cisco) out of Roscommon Coat of Many Colors (Blazer), bred by Alanna Kelly and owned by Robert and Brenda Mazzotti
Majestyk White Light'N Strike OA OAJ (Xena) out of Pinnacle White Lightning, co-bred with Donna Colletti and owned by Mike and Ellyn Pfaneuf
Allaroundís Donít Steal My Thunder OA AXJ CGC (Bandit) out of Roscommon Coat of Many Colors (Blazer), bred by Alanna Kelly and owned by Pat Brown
Allaround Loki Strikes NJP (Loki) out of Roscommon Coat of Many Colors (Blazer), bred by Alanna Kelly and owned by Margaret Howes
Belcroft Sail-N High (Kite) out of BISS Ch Katana Fly Away Majestyk (Olivia), owned by Boots Gibson
Grandson Allaround Belcroft Cull of the Wild AX NAJ NF (Foxglove Con Brio Fiorano x Ch Allaround Majestyk Glacier RN), co-bred with Alanna Kelly and owned by Jane Plamondon





Striker is OFA good and eye clear. He is proven and is at stud to approved bitches.







Striker and his sister, Carli:

_____________________________________________________________________







_____________________________________________________________________